16–17 November 2021, Rotherham & online.
The UK faces a monumental challenge to decarbonise by 2050. With up to 40GW of new nuclear capacity – a potential investment totalling hundreds of billions of pounds – there will be huge opportunities for the supply chain.
From current gigawatt-scale projects to new designs of small and advanced modular reactor, along with continuing opportunities in the decommissioning and defence sectors, the scale of the market will stretch the nuclear supply chain's capabilities and capacity to the limit.
What are the opportunities for UK manufacturers?
What do suppliers need to do to win work now and over the next 30 years?
How can we work together as an industry to meet the challenges?
These are the big questions that will be addressed at the Nuclear Manufacturing Summit 2021.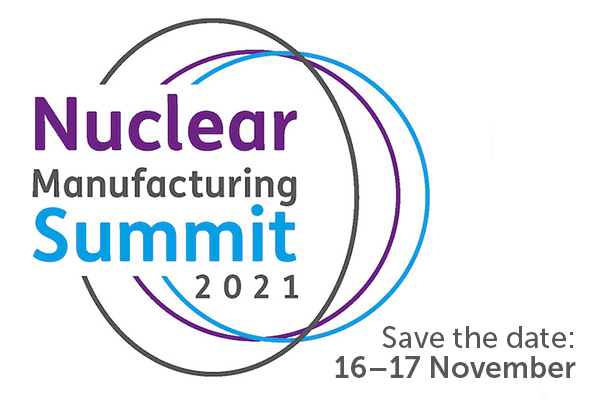 Hosted by the Nuclear AMRC, this event is for supply chain companies looking for opportunities in the nuclear market at home and worldwide, and wanting to play a part in the UK's commitment to reach net zero emissions.
Following hot on the heels of the highly anticipated UN Climate Change Conference in Glasgow, the event will:
Look at the latest government and industry targets – including £2 billion of new UK and international orders by 2030 – and the scale of the challenge.
Provide details on the key UK nuclear programmes and the opportunity for the supply chain.
Discuss how we can bridge the gap between where the UK supply chain is today, and where it needs to be.
Provide advice and support for supply chain companies already working in nuclear, and those looking to get into the sector.
We'll have keynote presentations from leading figures in government and industry, hands-on workshop sessions, technology demonstrations and exhibition.
For now, please save the date – full details and registration coming soon!